Self-catering
All our studios and apartments are equipped with a small kitchen or kitchenette. Normally you have a cooker with 2-3 hotplates, an oven, a kettle and the necessary cooking and eating utensils. So you can cater for yourself if you wish.
Of course you will also find a small supermarket in the village centre of Mörel, where you can buy all the groceries you need and many articles of daily use.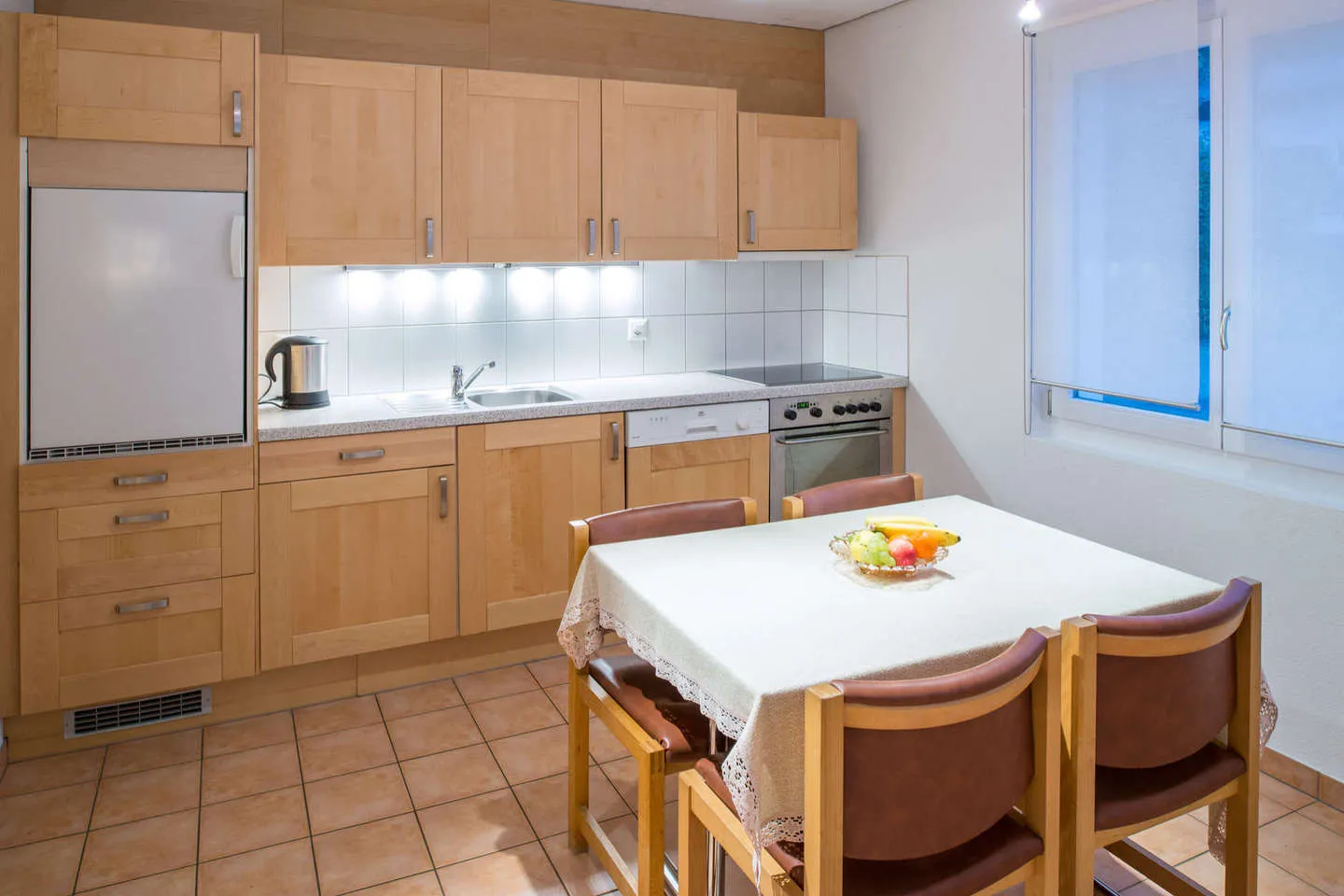 Bed and Breakfast Switzerland
Would you like to start the morning quietly and let yourself be pampered to start the day? We serve you a rich breakfast buffet every day in the breakfast room and on the breakfast terrace of the Badehotel Salina Maris in the centre of Breiten, only about 50 - 250 m away from your studio or apartment. The price is a reasonable CHF 15 per day and person. Children pay CHF 1 per age year.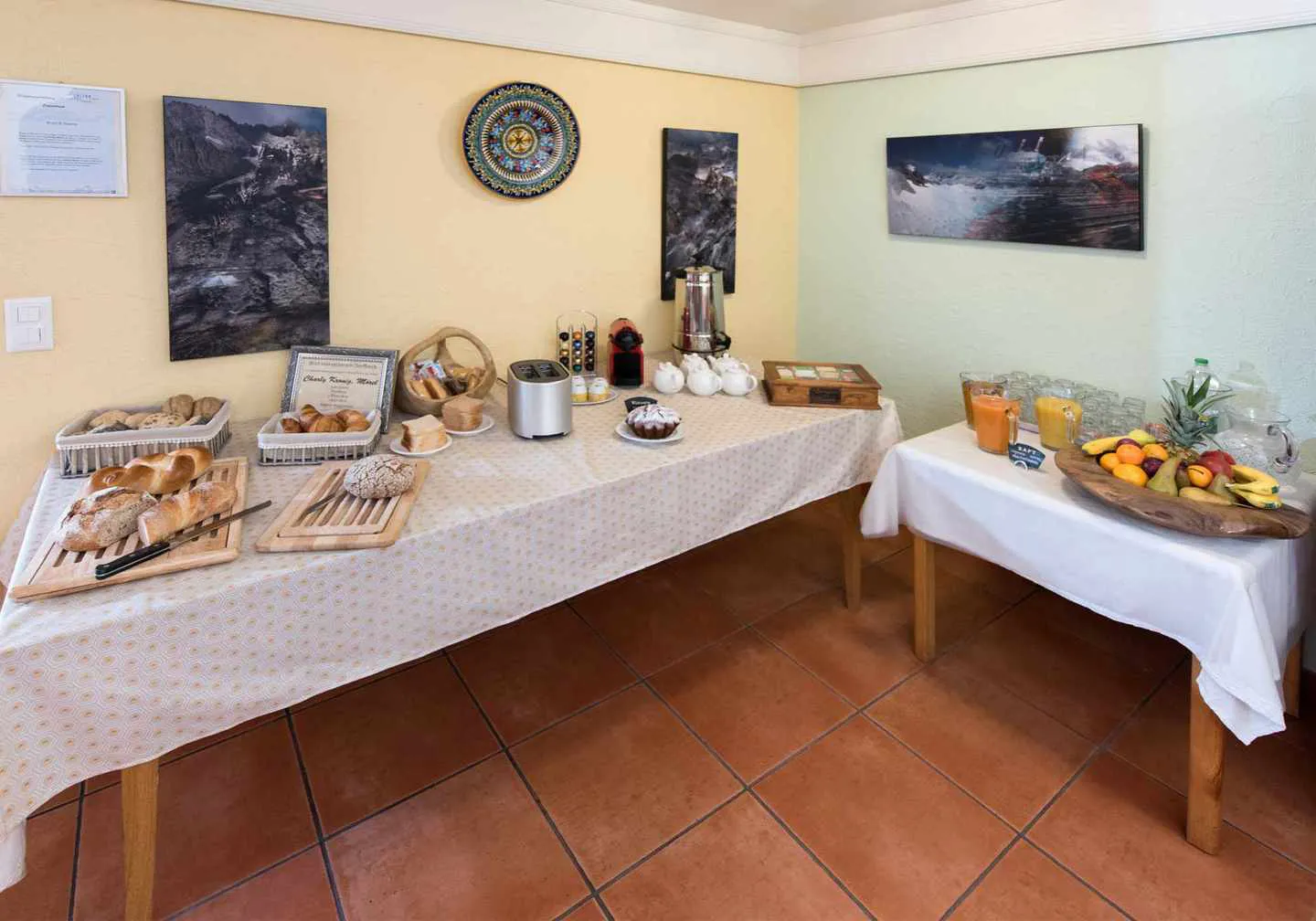 5 restaurants in the village centre
You can easily invent an occasion to celebrate, we can recommend the right place. Whether as a couple or with the family, whether with friends or business partners, whether cheese specialities or extensive candlelight gourmet menu, the restaurants in Mörel and the surrounding area offer the something for every taste.
The restaurants in the centre of the village are only about 1 km away and can easily be reached on foot.
Restaurant Aletsch
The Aletsch Restaurant is centrally located near the cable car station. Denise and her team welcome you throughout the day. A daily menu is offered. Also you will find on the menu many smaller and larger, delicious dishes.
Cooperative Restaurant Furka
The cooperative restaurant Furka was recently reopened. It has set itself the goal to become THE village pub. Mingle with the locals and feel at home At home. In addition to a fresh menu of the day, Valaisan dishes and raclettes are available. (Sundays from 14:30 on, Tuesday + Wednesday closed)
(Sundays from 14:30, Tuesday + Wednesday closed)
Restaurant Tunetsch
The Tunetsch Restaurant is located at the end of the village in easterly direction, right next to the Rhone bridge at the camping site It is open daily. This restaurant was also recently reopened. In addition to an inexpensive lunch menu, the restaurant has a small menu with simple dishes.
(Closed from November to April.)
Tea-room Kronig
The Tea-room Kronig right next to the church is attached to the village bakery. Besides valais specialities such as rye bread or Valais nut cake, the very good bread is particularly worthy of mention. The unique three-ear bread is well known. My favourite is the dark bread made from groats.
Lung Wah
The Chinese restaurant Lung Wah brings some exotic flair to the village. It belongs to misses Chung, a Chinese woman who has been living in Valais for a long time and is run by a Chinese gerant and is run by a chinese gerant. Ask us about our experience before your visit.
(Temporarily closed because of Corona)
Restaurant z'Matt
Already in the neighbouring village of Bitsch, about 2.5 km from Mörel (direction Brig) is the Restaurant z'Matt. It is located in an old Valais house. In addition to the dining room and the small hall on the 1st floor, it also has a very nice garden restaurant. Stefan Gundi spoils you with down-to-earth Valais dishes. (Closed on Monday)